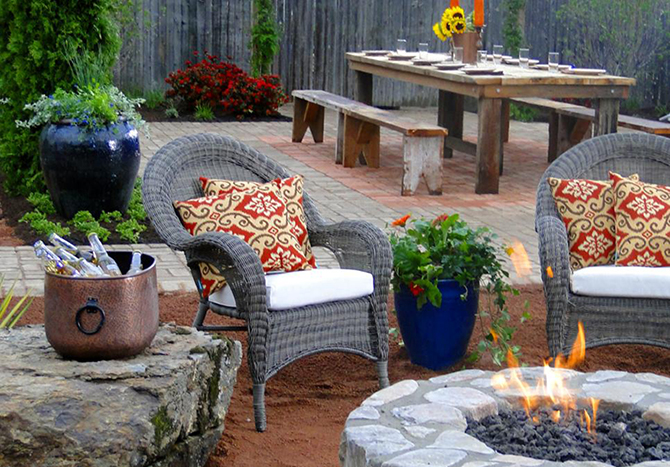 Waltz & Sons can help you transform you deck or backyard into an "after" scene from your favorite home improvement show, without hiring a landscape contractor, or spending a ton of money. After all, so many of the show's "wow" moments and big reveals are fueled by one awesome, affordable, environmentally friendly ingredient: Propane!
A heated outdoor space filled with convenient cooking appliances, and amazing lighting doesn't just extend the outdoor season, it extends your living space. It's like a brand-new home addition without the hassle and expense. We will professionally install your outdoor appliances regardless of where you purchase them.  You can even connect these outdoor living appliances to your existing home system to make them even easier to utilize. We want to make your outdoor sanctuary come to light, and help you and your loved ones enjoy endless Summer fun!
Propane is an easy way to warm up outdoor spaces.
PROPANE FIRE PITS & TABLES – A propane fire pit or table is an inviting, safe and environmentally friendly way to cozy up a deck or yard. Propane fire pits and tables come in many styles and materials, from traditional stone and burnished copper to sleek iron and cast concrete. You can even build your own with custom burners to fit any décor. They turn on and off with ease so you can enjoy the fire pit for hours… or just a few minutes. The warmth and atmosphere they create will be the center of your outdoor sanctuary.
PROPANE PATIO HEATERS – If you've seen propane patio heaters in restaurants with sidewalk or deck seating, you already know how well they work. A portable or fixed propane-powered heater can raise the temperature by up to 30 degrees! (And in Maine, that can make early April feel like the end of August.)
PROPANE POOL AND SPA HEATERS – Go ahead and jump on in. Propane pool and spa heaters range from 50,000 to 400,000 BTU/hour and warm water faster and more efficiently than electric heaters. You will use your pool and hot tub more—and enjoy them more—with the help of powerful, affordable propane heaters.
Propane can light up your landscaping.
PROPANE OUTDOOR LIGHTING – Propane lighting can create an amazing ambience anywhere outside. From rustic tiki torches to traditional gas lamps, propane lights add a natural glamour and glow without adding up big electricity bills.
Propane gets things cooking outside.
PROPANE OUTDOOR KITCHENS AND GRILLS – Food just seems to taste better when you cook it outside, right?! You can't believe the range of portable and fixed propane kitchen appliances that are available today! From professional ranges, convection ovens and cooktops to push-button ignition gas grills, you can find the perfect appliances to turn your deck into your dream kitchen. Did you also know you can hook your propane appliances up to your home systems and never run out of propane mid-cookout ever again?!
Waltz & Sons has the experience and expertise to properly install a wide range of durable, affordable outdoor propane appliances and amenities—and that matters. With propane heaters, fire pits, lighting, and outdoor cooking areas, you and your family can spend more time enjoying your outdoors.
Call Us today for a Free Site Survey and let us help you realize the possibilities of your outdoors!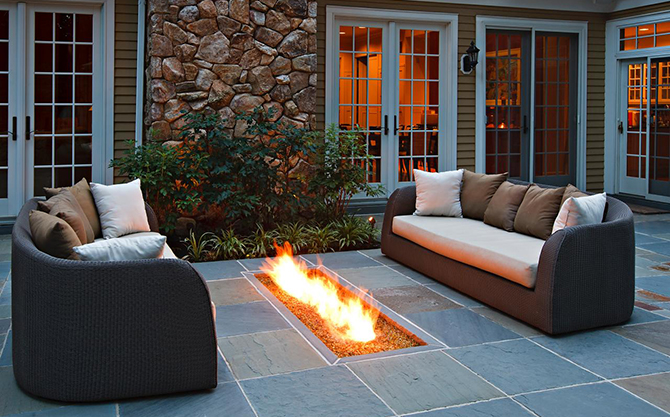 Do you have a room in your home or office that never quite warms up, no matter how high you crank up your heat? Maybe it's the guest bedroom, the back bathroom, a work area in your garage, a home addition or an in-law apartment … a place that always seems to need an extra blanket or another sweater to feel pleasant? Space heaters can be a fire hazard and a new furnace is a big investment, but that doesn't mean you need to suffer until spring.
You deserve to feel comfortable throughout your home! We have a fast, easy and affordable fix for frosty rooms: an energy-efficient, direct vent wall furnace. These sleek, smart Rinnai appliances circulate consistent, cozy heat and require almost no maintenance.
The benefits of high efficiency Rinnai wall furnaces
Wall furnaces can be installed quickly. These direct vent furnaces require no ductwork, so experienced Waltz & Sons technicians can have your new wall furnace up and running just one hour.
Wall furnaces are safe. Unlike space heaters, wall furnaces aren't considered fire hazards. And the cool-touch cabinet and control lock means you can let your children play close to your wall furnace with confidence.
Wall furnaces are high efficiency heat sources. Each wall furnace continuously monitors the conditions in your room, generating heat only when you want it. You can pick your preferred heat setting and forget about it!
Wall furnaces save hundreds of dollars per room, compared to other home heating options.
A Rinnai wall furnace can turn a three-season porch into a year-round retreat. You can heat home additions, newly finished basements or bonus rooms and in-law apartments without creating a new heating zone. Wall furnaces also make great additions to guest rooms and AirBnB rentals—you can let your guests choose their preferred heating level without adding big bucks to your utility costs.
We've relied on a direct vent wall furnace for our office heating right here at Waltz & Sons for years, and we still can't believe how efficiently and effectively they heat our space. They're durable and long-lasting, too. Our wall furnace is still going strong after twelve years! Give us a call or stop in to see how well it works (and how good it looks) for yourself.

Tired of taking cold showers or a shower that starts hot and ends cold? Do you have children in your home and don't have enough hot water to fill the bathtub? Tired of looking at that bulky electric hot water heater? Tired of hearing your boiler come on just to maintain your hot water temperature… especially in the Summer!?!
If so, it may be time for you to consider an upgrade that will save you money and space in your home. Propane tankless water heaters only heat water when it is being called for in the home, saving energy by only heating what you need. Since they are heating as it is called for, it also is an endless supply of hot water.
These little units can save you space in your home. Their compact design can save between 9-16 square feet, making them perfect for smaller and multi-unit spaces. They have more possible installation options like closets, small spaces, or even outside the home.
Benefits of Propane On Demand Hot Water Heaters:
Compact – Saves 9-16 square feet of floor space
Endless supply of hot water  
Lower energy costs than typical electric storage water heaters
Lower CO2 emissions compared to electric systems
Scalable – great for smaller 3GPM systems but can also accommodate multi-unit systems with higher 4-5GPM systems
How Tankless Propane Hot Water Heaters Work:
A conventional hot water heater heats water 24/7, even if you aren't using it. Over time, that water stored will cool and will need to be reheated – wasting energy. A tankless system heats hot water only when it is called on from the home. When you turn your hot water faucet on, the water is heated as it passes through the heater (to the temperature you have decided on). When you are done, and turn your hot water off, the unit goes into standby mode. If you are ready to stop running out of hot water, contact us and let's talk about getting you switched to a tankless propane system. You could even qualify for a rebate through the Propane Gas Association of New England.

Keeping your family safe
Important information about propane safety and WINTER STORMS
BE PREPARED FOR A WINTER STORM
Make sure your propane tank, whether it is located above or below ground is marked properly by a flag, pole or stake that is higher than the expected snow cover depth for your location.  This will increase the odds of it being seen by someone such as a snowplow operator, reducing the chances for a potential accident.

NEVER store or place a propane cylinder indoors or in an enclosed area such as a basement, garage, shed, or tent.
NEVER use a gas oven or range-top burners to provide space heating.
NEVER operate a generator indoors.
Have a list of instructions on how to turn off your propane appliances, electricity and water in case of an emergency.
If you call for a propane delivery, please check the percentage reading on your tank gauge and have your reading ready when you call.  Also, please ensure we will be able to deliver your tank by maintaining a clear path to your tank and access for parking in a safe location.
DURING A WINTER STORM
Snow and ice can create problems for your home's propane system by freezing regulators and valves of propane equipment.
Make sure to clear snow and ice away from all outdoor vents, chimneys, and flues; thereby reducing the potential for CO poisoning.  Whenever possible, use a broom instead of a shovel in order not to damage your propane system components.
Clear snow and ice from around your propane tank and exterior gas lines. Also, keep your regulators free from snow and ice, as the regulator needs to breathe to supply the propane to your home.
AFTER A WINTER STORM
Clear all snow and ice from your home's propane system and provide a clear path in order that you can receive your propane delivery safely.
Inspect chimney's, flue pipes, and vent connectors for damage, blockage, or debris.
Inspect your propane appliances for damage before use.
If damage is suspected, DO NOT use your propane appliance(s).  Contact us at 929-8898 to perform an inspection of your propane system and appliances.
Are you tired of running out of hot water?
Does your furnace run year round to heat your hot water?
Are you worried about the expense of replacing your hot water heater?
Do you want to save money on your annual energy costs?
Would you like to lower your CO2 emissions?
Installing a new hot water heater is not as expensive as you may think….the average cost of a new propane hot water heater with standard venting and installation (up to 25ft LP lines) is less than $2000 (plumbing, electrical & additional venting not included) and there are also some great offers and rebates you can take advantage of:
Waltz & Sons 10% Customer Discount

Propane Gas Association of New England $300 Rebate*

Rinnai $50 or $100 Rebate**
Call Waltz and Sons today at 929-8898  to schedule a FREE site survey!
*Propane Gas Association Rebate runs from July 1, 2016 to June 30, 2018 or until funds are depleted. **Rinnai rebates are based on units purchased.  Rinnai Hot Water Heater must be purchased by Dec 31, 2016 and installed no later than Jan 15, 2017.***Federal Tax Credit applies to hot water heaters purchased in 2016 and claimed by Jan 15, 2017. 
Get an insider look at a typical day of propane delivery at Waltz & Sons!
In our latest video, we take you from the moment we enter the office, through the post propane delivery process. Enjoy!
The Propane delivery process doesn't start when we pull into your driveway. At Waltz & Sons, there's a process to ensure safety, accuracy, & efficiency with each propane delivery. 
We began each day checking into the office & picking up delivery tickets. 
Before we head out to deliver propane, we perform safety checks on our delivery trucks – and then we're on our way. On any given day, we could have 15 to 50 propane delivery stops per truck!
When we arrive at our customer's location, we back our propane delivery trucks into the driveway to the closest location to the propane tank. It's important for customers to make sure there's a clear & safe walking path to their propane tanks. 
Once we reach the propane tank, we'll check it for safety and also check to confirm a propane delivery is needed. 
Once confirmed, we'll pull the hose out to the propane tank, connect up and start the "delivery". This part takes anywhere from 5 to 15 minutes.
When the delivery is complete, the propane tech/driver will go back to the truck & print out a delivery ticket. After the ticket is filled out, it's brought back to the office.
The propane delivery ticket will be connected to the customer invoice, which is then either mailed or emailed to the customer depending on their preference. 
At the end of the day, the driver will  run a post trip inspection on their propane delivery truck, and bring all delivery tickets into the office, where they'll process all of the tickets for the day.
If you'd like more information about Propane Delivery in Maine, or propane in general, be sure to contact us today & if you enjoyed this video, please subscribe to our channel & stay tuned for more!
Propane appliances are a great alternative to electric ones, especially when the power goes out. With propane appliances installed, you'll still be able to cook your food and stay warm!
In our latest video, we go over the top 5 home appliances that use propane.
The most popular home appliance to run on propane is your furnace or boiler.
Today's propane furnaces are highly efficient, require very little maintenance and come in a variety of sizes, making them perfect for heating a single room or your entire house.
They can be vented horizontally or vertically, eliminating the need for chimneys. Plus they can heat air up to 25 degrees warmer than electricity, ensuring that your home feelings cozy and comfortable all winter long.
If you want to save money on your electric bill, a propane dryer is the way to go.
Today's propane dryers are less costly to operate than an electric one, because they deliver heat quickly and efficiently.
They also produce a moist heat, which means your clothing comes out softer, with less wrinkles and static free. This also reduces the risk for burning or discoloring your clothes.
Another popular home appliance that uses propane is your kitchen stove or range.
Unlike conventional ovens, propane offers greater control of your cooking with precise temperatures and even heat distribution.
The burners on a propane stove heat up quickly, allowing you to start cooking immediately. And when you're done, the burners turn off instantly, making them very safe.
Who doesn't love sitting in front of a warm fireplace?
With a propane fireplace, Hearth Stove or Logset you get an authentic fireplace experience without the hassle of lugging wood or cleaning out soot.
Propane fireplaces are more efficient than wood and they heat a room more evenly. Most require very little maintenance and don't need electricity to operate. With a high efficiency, direct vent fireplace, you can heat your space faster, safer and for less money!
Another great appliance that uses propane is your water heater.
With an on demand propane water heater you'll never run out of hot water because it's heated only when it's needed.
They are tankless, which means they are smaller and take up less space in your home. And because they don't store water like standard water heaters they are less expensive and more efficient to operate.
Plus most are made with durable, long lasting components that require little maintenance.
As you can see, propane appliances are a smart choice for any home.
In addition to all of the appliances we talked about today, propane can be used for room/space heaters, refrigerators, lights and garage heaters! It's safe, clean and cost effective.
If you need help buying, installing or maintaining a propane appliance, give us a call or contact us today. If you enjoyed this video be sure to subscribe to our YouTube channel. 
Do you have home appliances that currently run on natural gas? Did you know that most of your appliances can be easily converted to propane?
In our latest video, we take a look at some of those appliances.
Let's start in the kitchen. One of your most important appliances is your refrigerator.
It runs 24 hours per day, 7 days a week and must always stay cold.
Most electric, and all natural gas, refrigerators can be converted to propane quickly and easily. And if you have a separate freezer, that can also be converted to propane.
Next is your kitchen stove or range.
These appliances are often relied upon for daily use and are some of the most common propane run appliances in a home. These too can be easily converted to propane.
Next we'll head to the living room.
Another home appliance that can be converted to propane is your gas fireplace. It's easy to do and will ensure your living space is warm, comfortable and saving you money during those cold winter months.
Speaking of cold weather, let's head to the basement and take a look at the furnace.
One of the hardest working, and most costly to operate, appliances in your home is your furnace or boiler. These can easily be converted to propane, making them much more efficient and require less maintenance, which will save you money.
Plus they heat the air in your home faster, so it stays warm and cozy all winter long.
Another appliance that is perfect for propane is an on demand hot water heater.
You'll never have to worry about running out of hot water if the power goes out when you use propane.
Plus they only heat the water that you use, making them more efficient and less expensive to operate. It's a great choice for any home. Now let's head back upstairs to look at the clothes dryer.
If your clothes dryer currently runs on gas, it can be converted to propane very easily.
And because propane is more efficient than gas, your clothes dryer will cost less to operate.
Next we'll head outside. Gas grills are another popular appliance to run on propane.
They heat up quickly and provide a consistent and even heat source every time you use them. 
One thing to keep in mind if you plan to convert an appliance to propane is most will require some kind of a conversion kit.
A licensed technician can assist you in finding the right kit and converting your appliances to propane. If you don't feel comfortable doing the conversion yourself, a licensed technician can help.
If you have any questions or need help with your propane appliances, give us a call or contact us today. If you enjoyed this video, please subscribe to our YouTube channel.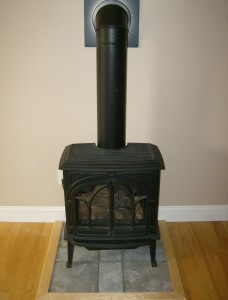 At Waltz and Sons, not only do we provide installation and service, we also sell appliances!  Our licensed propane technicians can help you find exactly what you are looking for to make your buying and installation a smooth and easy experience.
If it runs on propane, we can get it for you!  There are many propane appliances that you can use at your home:  fireplaces, freestanding stoves, on-demand hot water heaters, dryers, ranges, heaters, generators, firepits, pool heaters and more.  Our experienced technicians can answer any questions you may have about propane appliances during a free site survey and assist you in selecting the right appliance for your home.
Rinnai, Empire, Kingsman, and White Mountain Hearth are a few of the high quality brands we sell our customers.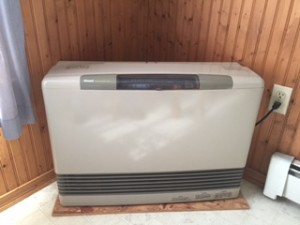 Waltz and Sons also sell, install and service Heat Pumps, an alternate heating and cooling system that is growing in popularity here in Maine. 
Whether you are replacing an existing appliance, adding an additional appliance or are a new customer looking for an appliance, Waltz and Sons wants to make your shopping experience EASY!  Contact us or call us at 207-929-8898 to schedule a free site survey.  We want to fuel your life!
Do you smell propane inside? Propane leaks can originate from a variety of sources, whether you have propane heat, a gas stove, a propane generator, or more.
Here's a step by step safety guide for what to do if you smell propane.
If you already have propane in your home, you already know how safe and convenient propane can be. Most people never have a problem with propane, because leaks are rare – but they do happen from time to time.
Hopefully, the above video will point you in the right direction on what to do if you smell propane. 
If you have any additional questions about smelling propane inside, or propane in general, please contact us today. If you enjoyed this video, please subscribe to our YouTube Channel!